Generating qualified leads and getting in front of key prospects is a challenge for every digital marketers and sales team.
Given the existing global pandemic and the inability to meet face to face, creating real engagement has gotten more difficult however by enabling 3D virtual tools, brands are finding ways to make the typical Zoom meeting more human and interactive.
Telescope Casual Furniture, a US made outdoor furniture company, based in upstate New York has boosted their ability to go to market with a large collection of SKUs and product options by digitizing their entire 700 SKU product catalog.
This has enabled their customers to custom design their outdoor furniture line directly on their website, syndicate this to other e-commerce sites and host virtual meetings for their key customers.
In this article we will outline the specific ways that the Telescope digital marketing team was able to maximize the reach of their 3D content and empower their sales people to close deals faster.

3D Catalog Digitization
Early on the Telescope digital team made the decision to create 3D models of all their content and host it in the Simply3D cloud because they realized that once they created the 3D SKU they would be able to use it across many different market channels.
One way they utilized this content was offering customers the ability to try products in their own environment using augmented reality technology.
Using their mobile phone, customers can scan a QR code and then drop digital products into their room or patio to see if the size is right and if the color matches their decor.
Telescope products have many options and color combinations. The team at Simply Augmented digitized 700 SKUs and converted over 500 fabric samples into files that could be placed on top of each product.
It is rare that a product manufacturer has this many color options but now that all these configurations are in the cloud Telescope has the flexibility to create web based configurators that empower their audience to design their own custom solutions

Custom Product Configuration
When you go to the Telescope Casual website you will see that every product is displayed in 3D and you are able to spin the product in any orientation and zoom in to check out every detail that is important to.
Below the product is a user interface that exposes every Sunbrella material that is offered for customization and by selecting these swatches appears in the configurator above.
There are so many potential combinations it would be impossible to pre-render all the augmented reality so instead the Simply3D platform has a AR-On-Demand button. Click on the button and your custom configuration instantly provides a code that allows you to test the SKU in your own environment.
Sales reps are also able to create unlimited 3D renderings and spec sheets of specific combinations on the fly for use in marketing materials and to share with customers.
This used to be a time consuming process that required having to outsource to a 3rd party but with a web based configurator creating content without having to write code is instant and easy.
E-commerce Syndication
Telescope was smart about how they implemented their 3D configurator and because it was hosted in the Simply3D cloud, it was easy to syndicate to other e-commerce sites that carry their line of products.
Netretailers is one of their main e-commerce partners and was able to easily integrate it into their online properties.
Patioliving.com now has a 360 augmented reality option for all their Telescope products and are set up to take on more 3D content from other manufactures that host their products on Simply3D.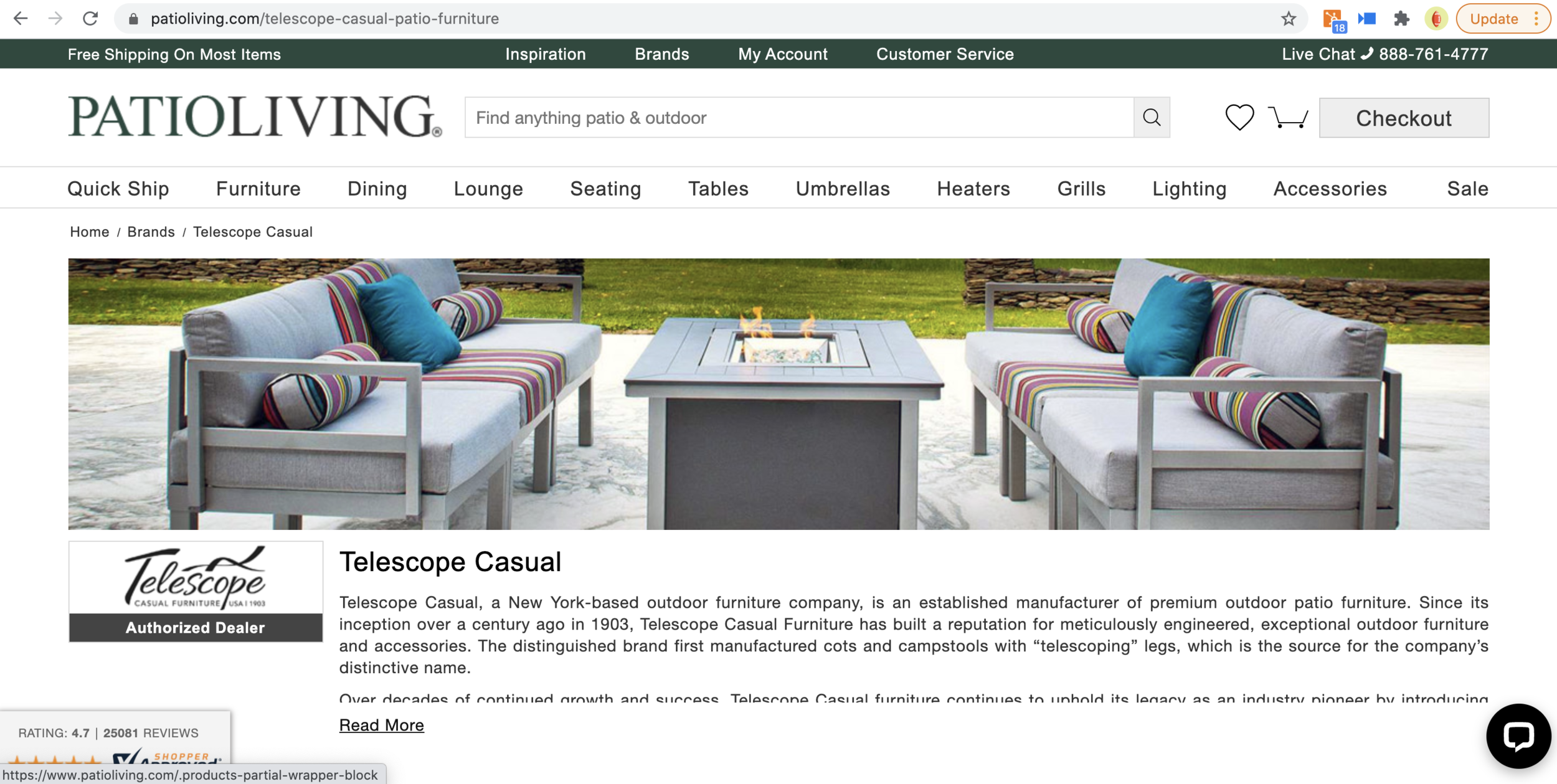 Once a brand has built all their 3D assets there are a ton of efficiencies and ROI by distributing the items across a network of omni-channel partners.
ERP and CPQ Integration
The other way that Telescope was able to get ROI on their investment was to tie the 3D content and configurator to their ERP back end.
When you are on the Telescope casual website users can configure custom options on all their purchases and instantly create spec sheets that have the custom materials and image of your product associated with it.
This was a simple integration but has a dramatic impact on the ability for internal teams to organize and inventory products.

Virtual Showroom
In addition to hosting 3D content on their website, Telescope made the decision to create a one of a kind virtual showroom that allows their sales reps to invite prospects in to review merchandise and write orders.
The creation of this virtual showroom, powered by Linkroom technology, was in response to trade shows across the United States being canceled and sales associates needing to recreate the face-to-face interaction that was once the key to doing business.
Telescope's main trade shows and showrooms are located in Chicago, Las Vegas and High Point North Carolina and the Telescope virtual showroom is a custom digital design that takes the best of all the environments and merges them into one.
Inside the virtual showroom, Telescope has curated a series of furniture sets and have a gallery inside and outside to highlight the main features.
Product tags pop-up and prompt visitors to try and one of the Telescope products in their own environment using Simply3D QR codes.
Conclusion
Generating demand for your products is never easy.
Every business is hungry for qualified leads to drive business growth and with traditional trade shows shutting down it makes more sense to invest in a digital strategy.
For manufacturers that relied on selling products in traditional brick and mortar retail stores growing their presence online is essential and brands like Telescope Casual have found that investing in 3D is boosting their ability to get in front of their audience.
Customers want the power to configure the items they want in the colors and options that fit with their style and surroundings.
3D Augmented reality has emerged as a tool to allow users to try before they buy and ensure they are getting the products they want. This is increasing conversion and decreasing return rates.
Without the normal face to face channels sales reps once had, virtual showrooms have become way to ignite human interaction in a much more human way than typical Zoom meetings and Telescope is leading the way with digital marketing and virtual sales solutions that super charge their business development teams.
What kind of digital strategies are you using to increase speed to market and boost sales in a post COVID world?