The younger generations presence on social media is growing, and they are actively engaging with 3D social content daily.
As of 2020, Snapchat, Instagram, Facebook, and Tik Tok have all integrated 3D and augmented reality experiences into their platforms.
3D and AR experiences can be accessed via social media posts, stories, videos, lenses/filters, and filter games.
Company's sales and social media teams are now looking to leverage 3D experiences on their social media channels, to promote their products, brands, and reach younger audiences.
Below is a summary of the major social channels and how they are implementing 3D and AR.
Snapchat
Snapchat has over 229 million active daily users and the app usage from younger audiences is growing.
Out of the 229 million users, 87% are ages between 15-35, as seen in the graph below.
Snapchat has stated that 75% of their users engage with 3D and augmented reality to communicate, play, and learn on their platform every day.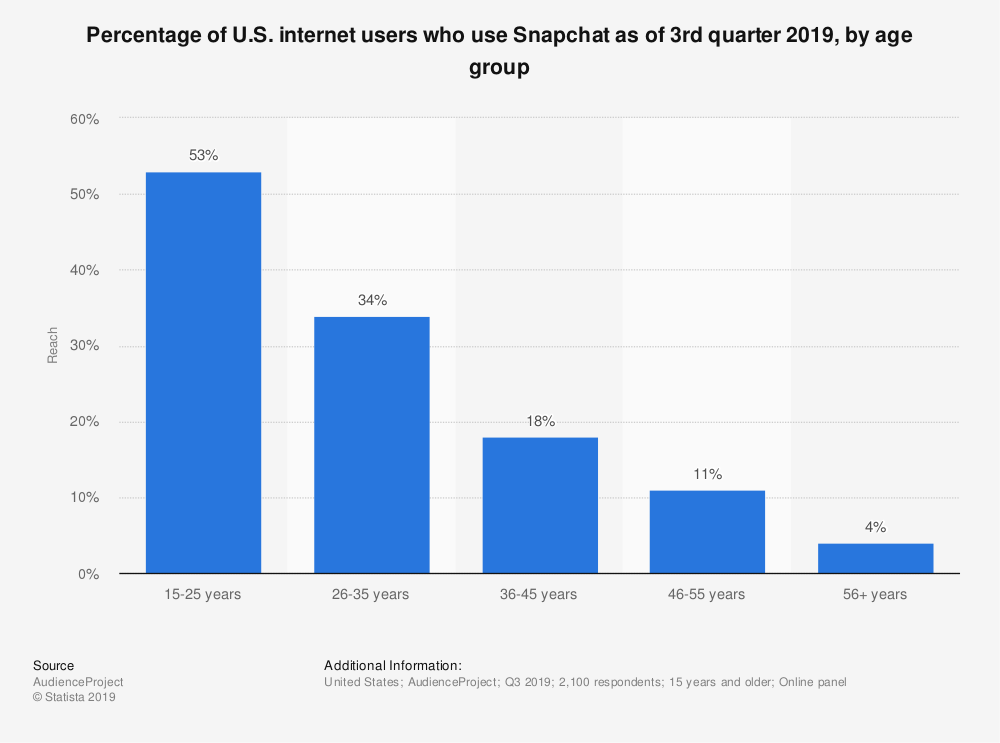 Since so many young people on Snapchat are interacting with 3D content, companies and organizations are able to reach them easily while promoting their brands, products, and messages.
With Snapchat people can experience augmented reality using Lens Studio, filters, games, and video conferences.
Snapchat recently released a desktop application, called Snap Camera, which allows users to use Snapchat 3D filters while video conferencing, zooming, or live streaming.
The Snap Camera has seen 30 times more user downloads beacuse of COVID-19 and social distancing.
3D social media experiences are also making their way into other digital mediums promoting physical engagement between younger people and brands.
Companies can implement targeted social media ads on the platform to target users by demographics, which allows for growth and visibility.
In honor of World Health Day, Snapchat launched a 3D lens in 11 languages and in 33 countries, to encourage people to donate to the World Health Organization relief efforts.
Check out the 3D social media filter for World Health Day, pictured below.
Instagram
Instagram has a massive young audience with over 72% of teens reporting having an account.
70.6% of the global Instagram users are in the 13-34 year-old age range.
3D social media posts allows Instagram's younger audiences to interact with companies and products through 3D posts, stories, filters, and lens.
Instagram business accounts can leverage 3D content by running social media ads, which allows for users to be targeted by their age, gender, location, and who they are following.
3D posts also help your Instagram stories stand out among all the other business Instagram accounts.
Instagram states that 1/3 of Instagram Stories are viewed from business accounts
Business need to be leveraging 3D content in order to create more unique social media experience for their users.
Check out this 3D Instagram filter and story created by Simply Augmented to help promote the Oklahoma City Thunder brand for graduation students in 2020.
Facebook
Facebook has over 1.73 billion active daily users, and 2.60 billion active monthly users, as of March 31st, 2020.
44% of their global users are in the age range between 13-34 years old.
Younger Facebook audiences are increasing as it has become popular to access 3D Facebook stories, filters, lens, and posts.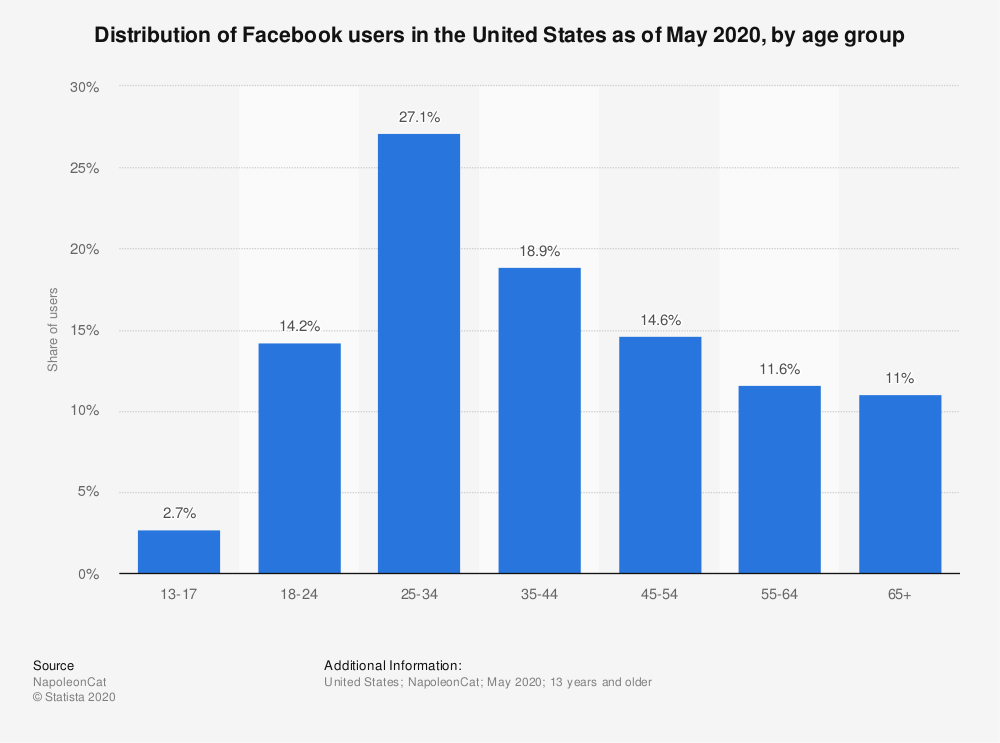 Younger audiences can interact and explore visual 3D images, objects, and animations directly from their news feed.
3D social media posts catch the user's eye as they scroll through there news feed, making them engage with the social media posts for longer periods of time.
This is a great way to enhance a company's social media feed to increase younger audience's engagement with posts.
Check out this 3D Facebook story promoting the Cricket world Cup!
Tik Tok
Tik Tok has over 800 million active monthly users, and roughly 50% of Tik Tok audience are under the age of 34.
3D social media posts are growing among young Tik Tok users with 64 % of Tik Tok users stating that they have tried face filters or lenses.
Tik Tok allows users to access 3D posts through 3D filters, images, and videos.
3D face filters are very fun to use and share with your friends, which is why we see 64% of Tik Tok users using 3D face filters.
Tik Tok also allows you to run targeted ads, which allow companies to target users based on demographics.
Universal Studios implemented 3D on Tik Tok ads and it resulted in 1.3 million likes on influencer videos, 19k user-generated videos, and 11K followers gained in 6 days.
Companies should leverage 3D content, like Universal Studios on their Tik Tok, during their promotional efforts.
Check out this cool promo for Tik Tok 3D and AR filters showing how users can interact with 3D social media content.https://www.youtube.com/embed/qEAtZjydGwc?wmode=opaque&enablejsapi=1
Conclusion
There are a massive amount of young users on Snapchat, Instagram, Facebook, and Tik Tok today.
The rate of youth engaging with 3D and AR experiences is increasing on all social media channels.
Augmented reality experiences on these 4 social media platforms also have cross-platform distribution, on IOS and Android, which enables a worldwide reach.
This creates a huge potential for growth in advertising, sales, followers, and brand recognition with younger audiences.
The future of social media will be 3D!